PROPS | SET UP | FEATURES | FAQ'S
Septiembre 24, 2016
Mustaches, Signs, Boas, Hats, Wigs, Sunglasses, Party, Jumbo, Novelty, Masks, Animal Feather, Head Boppers, Inflatables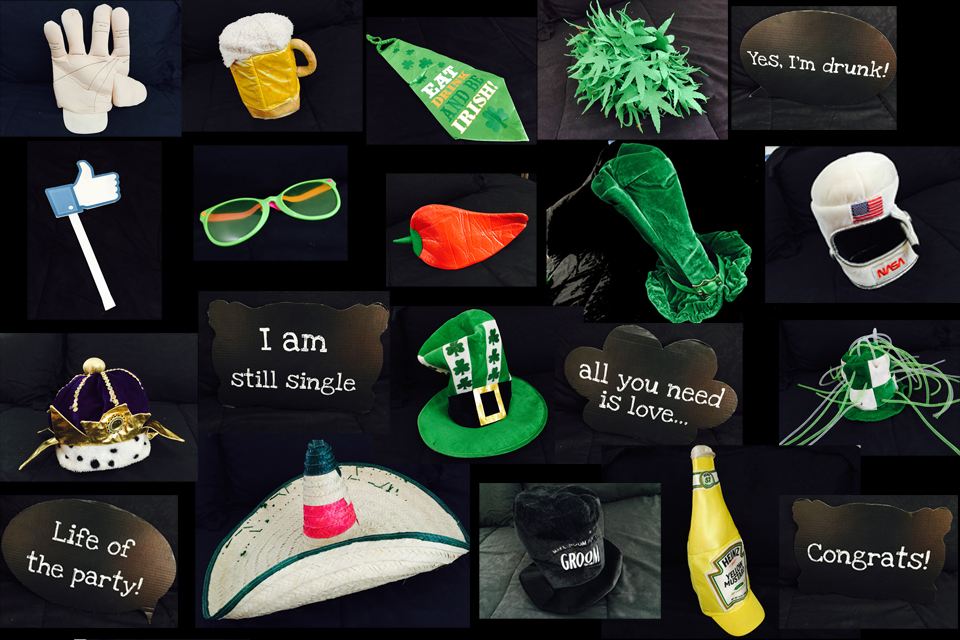 -We don´t just bring props, we bring the highest quality props.
-40-minute setup All components, including printer, store securely inside.
-Ultra-Compact PHOTO BOOTH IN LOS CABOS is the smallest, fastest, lightest photobooth available.

-USE YOUR VENUE AS THE BACKDROP or you can see our VIDEO and check our backdrop

-SOCIAL MEDIA SHARING

FEATURES:

Superior output, high quality digital images are printed in less than 8 seconds
Print sizes available 4 X 6 inches on a matte photo paper
Customizable text, graphics and color backgrounds
User selectable color or B/W images
OUR OPEN AIR PHOTO BOTH is the fastest photo booth in Los Cabos
Full time attendant on site to assist the guests
An original USB with all the images taken during your event.
FAQ'S
1. DO WE GET THE PRINTS IMMEDIATELY DURING THE EVENT?
Absolutely. The photos are printed immediately after taken from the photo booth.
2. WHAT TYPE OF EVENTS DOES  PHOTO BOOTH IN LOS CABOS HANDLE?
We provide photo booths for all type of events including corporate events, weddings, company parties, birthday parties, holiday parties, bar/bat mitzvahs, expos, school dances, non-profit fundraisers, festivals, etc.

3. HOW MANY PHOTOS CAN WE TAKE DURING THE EVENT?

You can take unlimited number of photos.
4. WHAT KIND OF PHOTO LAYOUTS CAN WE CHOOSE FROM?
You have the choice of the popular 4″x6″ print or classic 2″x6″ strips
5. HOW MUCH TIME DO YOU NEED FOR SETUP?
Just 40 minutes. But we usually arrived to the place 3 hours before the event.

6. HOW FAST IS YOUR PRINTER?

Most photos print out within 8 seconds.
7. HOW MUCH SPACE DO I NEED TO FIT YOUR BOOTHS?
 The open air booth with backdrop would take approximately 10′ length x 6′ wide x 6.75 height. However we recommend allowing a 10ft x 10ft space to setup properly, place props, and allow guests to come in and out.
8. CAN WE CUSTOMIZE THE PRINT LAYOUT?
Yes, depending on the package, you can add your own text and/or logo to the templates we provide, or we can customized a design completely to match your event.
9. WHAT IS THE DIFFERENCE BETWEEN THE CLASSIC PHOTO BOOTH AND OPEN AIR PHOTO BOOTH?
The classic photo booth is an enclosed booth with a ceiling, back wall and also curtains if you prefer more privacy.  The open air booth consists of a photo booth unit with a backdrop so that you can fit more people in the photos.  Our clean backdrops are perfect for PHOTO BOOTH rentals that want to elevate a Red Carpet experience. With the ability to customize multiple different ways, these backdrops great for weddings.
10.WHERE CAN YOU SET UP THE PHOTO BOOTH IN LOS CABOS?
Being the smallest and lightest photobooth on the market, the setup options are limitless. From beach weddings, living rooms, pool parties  to yachts to private booths at nightclubs, the PHOTO BOOTH IN LOS CABOS can be setup anywhere power is available.

11. CAN THE GUESTS DOWNLOAD PHOTOS FROM THE EVENT ONLINE?

You bet! We upload photos to an online gallery on our Fan Page on Facebook 1-2 business days after the event for you guests to view, download, and share.