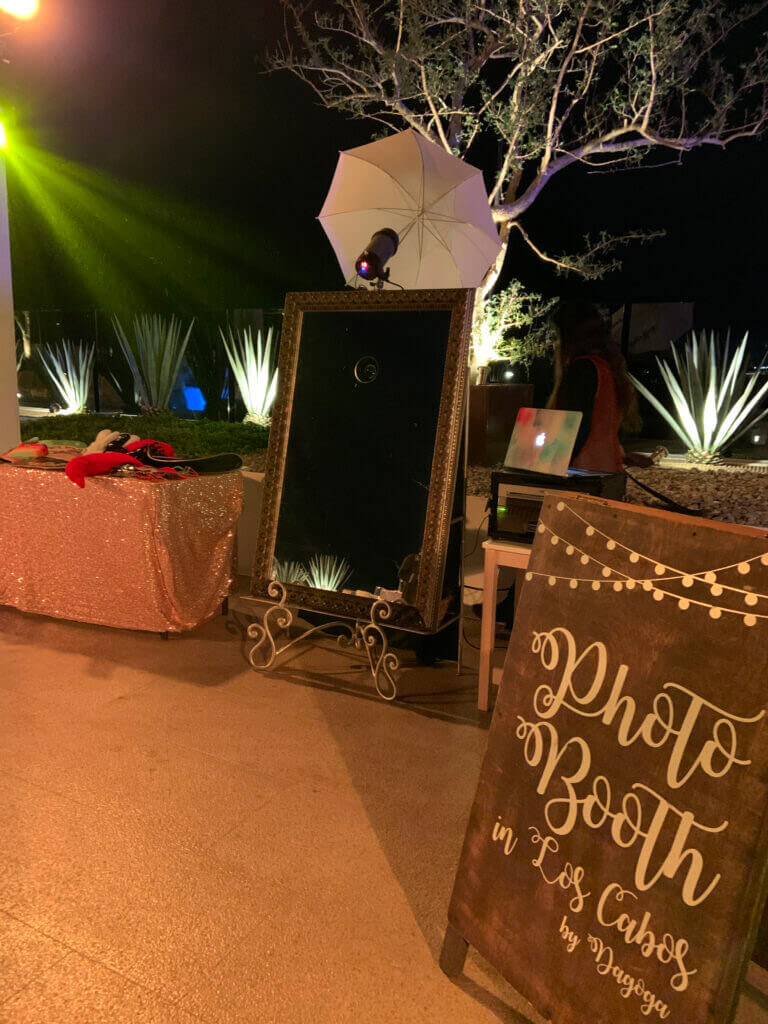 WHAT IS AN "OPEN AIR" BOOTH?
Unlike most photo booths, where you are in a small enclosure with walls and a drape, our open-air photo booths are designed without walls so everyone can see what is happening. The camera and printer are placed in front of a 7ft wide backdrop and there's approximately 7ft of space between the camera and the backdrop. This allows for plenty of people to jump into the pictures
1. DO WE GET THE PRINTS IMMEDIATELY DURING THE EVENT?
Absolutely. The photos are printed immediately after taken from the photo booth.
2. WHAT TYPE OF EVENTS DOES PHOTO BOOTH IN LOS CABOS HANDLE?
We provide photo booths for all type of events including corporate events, weddings, company parties, birthday parties, holiday parties, bar/bat mitzvahs, expos, school dances, non-profit fundraisers, festivals, etc.
3. HOW MANY PHOTOS CAN WE TAKE DURING THE EVENT?
You can take unlimited number of photos.
4. WHAT KIND OF PHOTO LAYOUTS CAN WE CHOOSE FROM?
You have the choice of the popular 4×6″ print or classic 2×6″ strips
5. HOW MUCH TIME DO YOU NEED FOR SETUP?
Just 40 minutes. But we usually arrived to the place 3 hours before the event.
6. HOW FAST IS YOUR PRINTER?
Most photos print out within 8 seconds.
7. CAN WE CUSTOMIZE THE PRINT LAYOUT?
Yes, depending on the package, you can add your own text and/or logo to the templates we provide, or we can customized a design completely to match your event.
8.WHERE CAN YOU SET UP THE PHOTO BOOTH IN LOS CABOS?
Being the smallest and lightest photobooth on the market, the setup options are limitless. From beach weddings, living rooms, pool parties  to yachts to private booths at nightclubs, the PHOTO BOOTH IN LOS CABOS can be setup anywhere power is available.
9. CAN THE GUESTS DOWNLOAD PHOTOS FROM THE EVENT ONLINE?
You bet! We upload photos to an online gallery on our Fan Page on Facebook 1-2 business days after the event for you guests to view, download, and share.